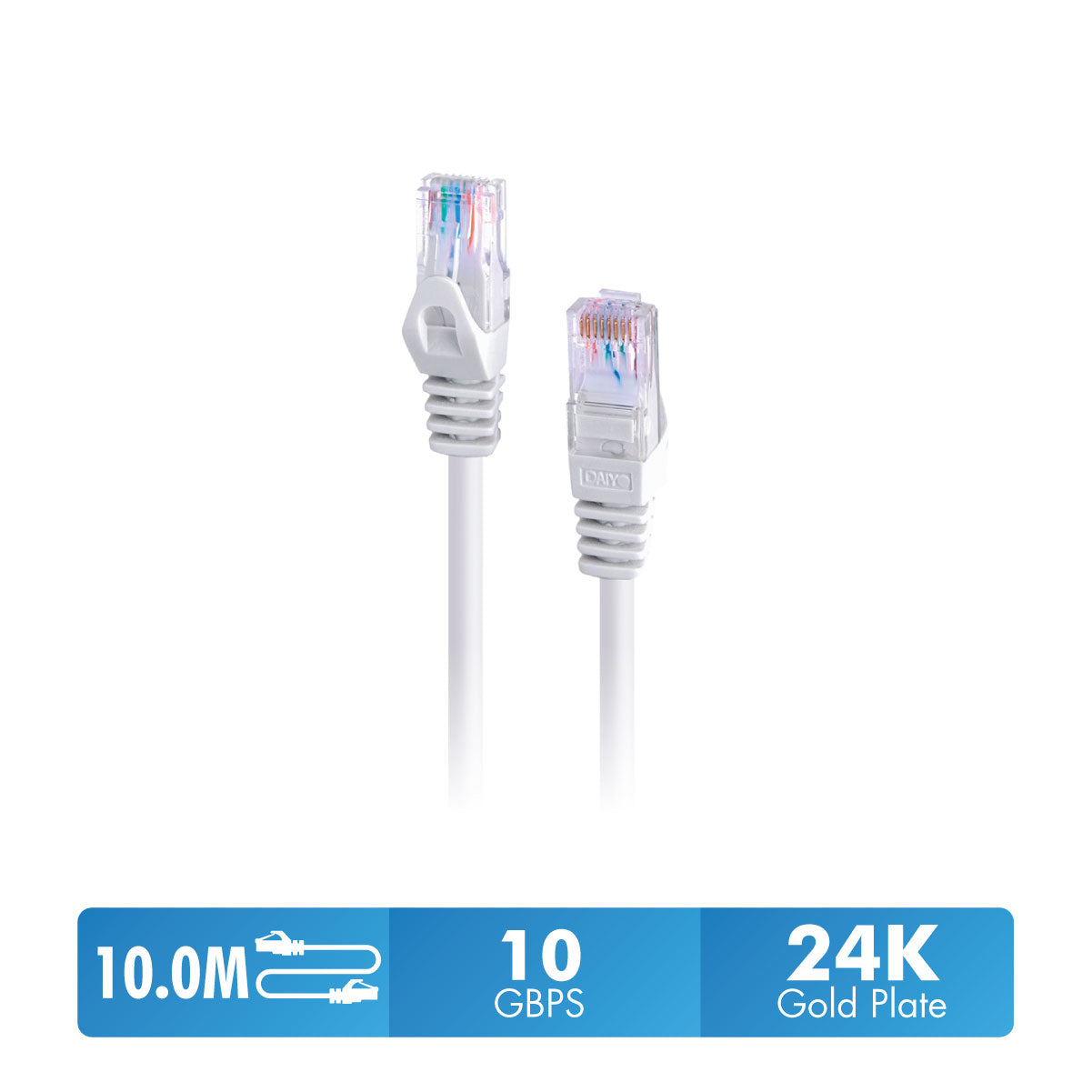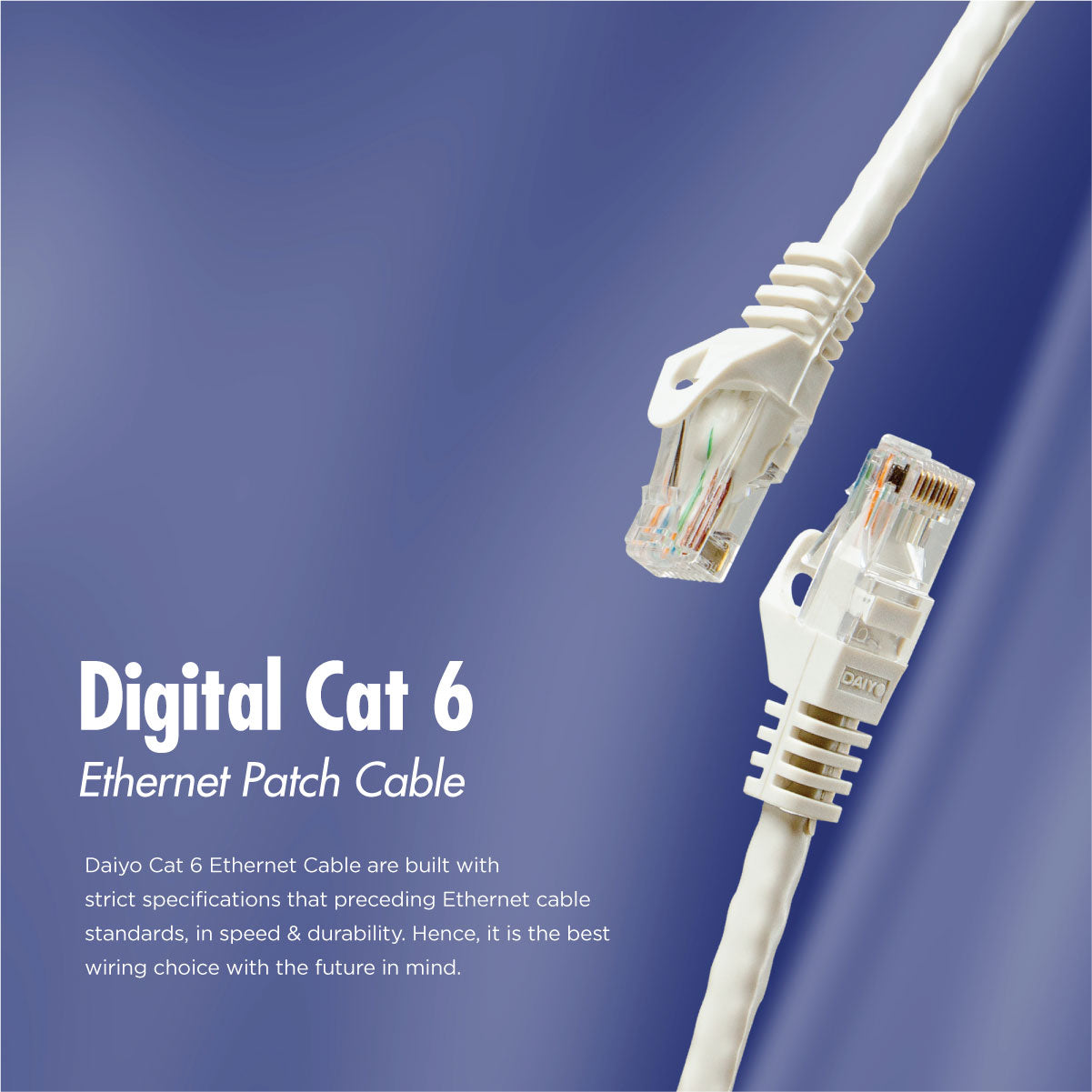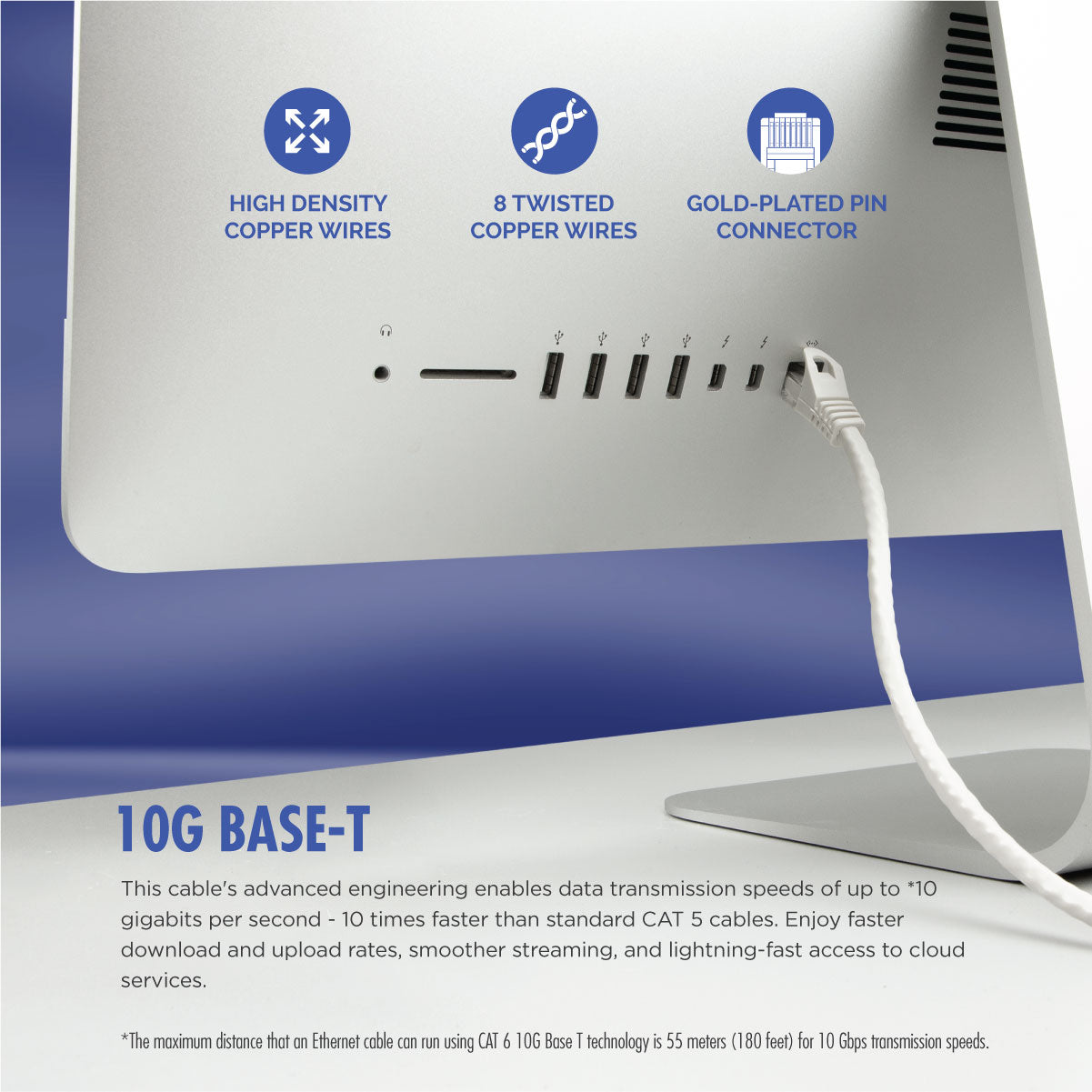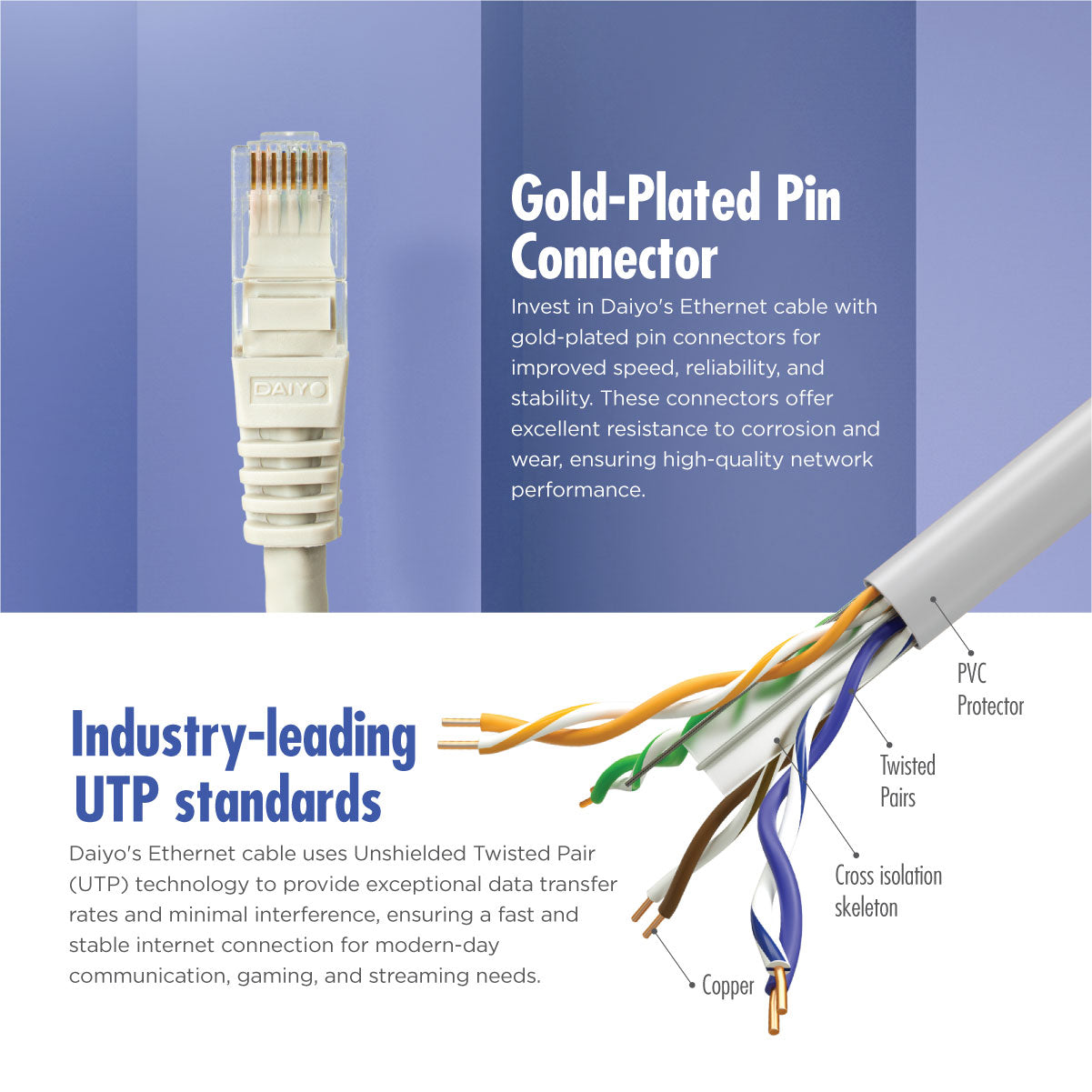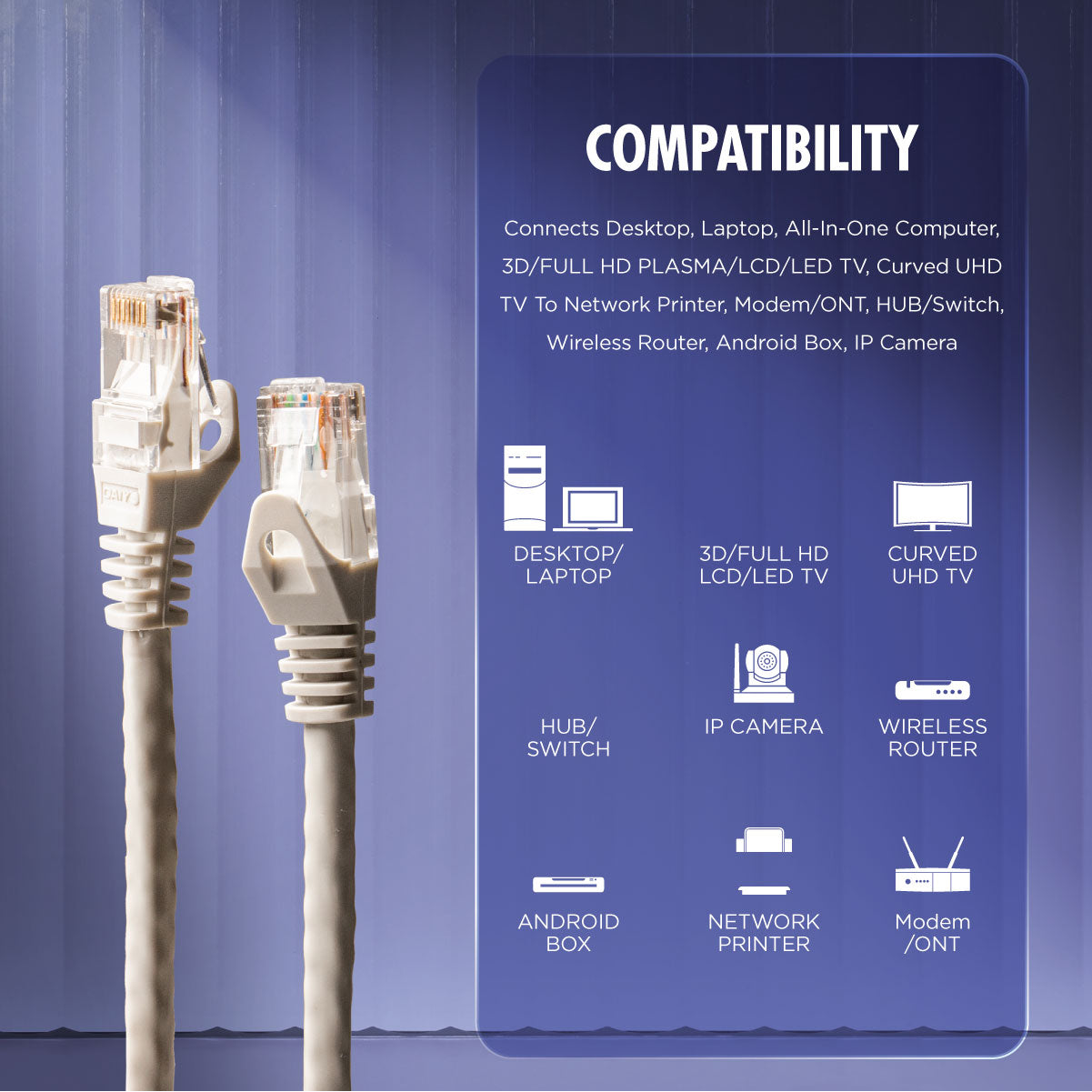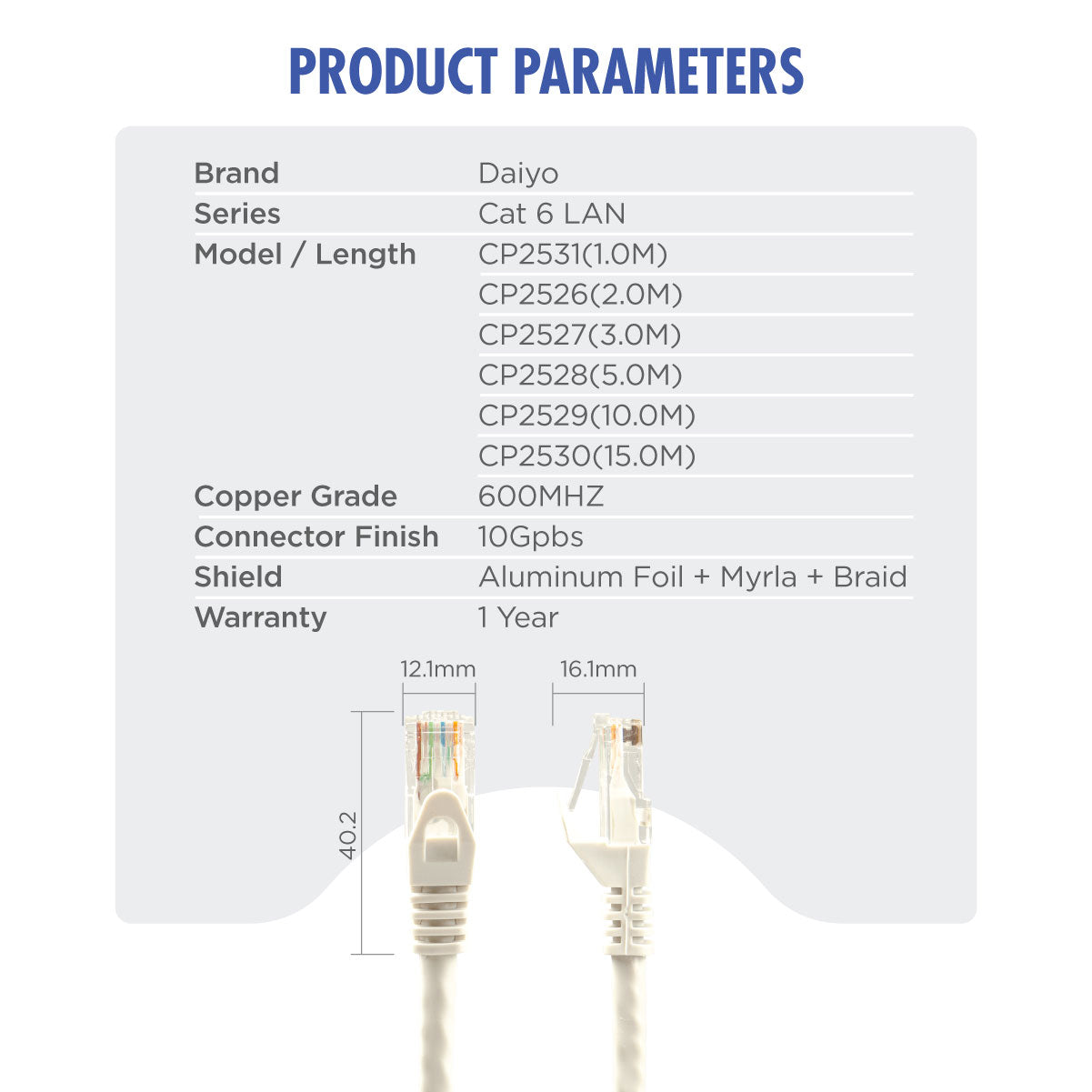 Daiyo CP 2529 RJ-45 LAN Ethernet UTP CAT.6 Cable 10m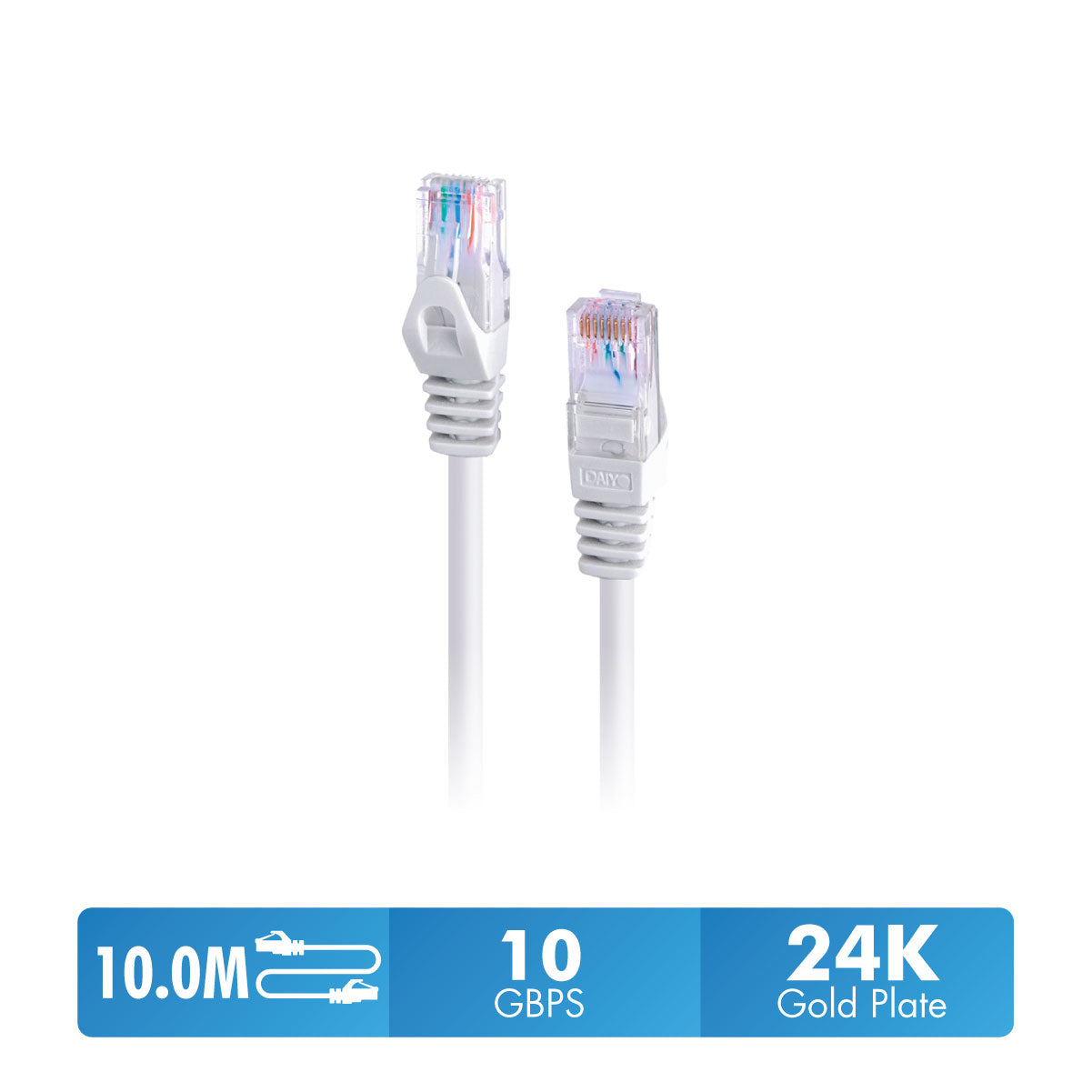 Daiyo Cat 6 Ethernet Cable, the perfect addition to your high-speed internet setup. Designed with premium materials and expert craftsmanship, this cable delivers lightning-fast internet speeds and unparalleled reliability.

Whether you're streaming your favorite movies, gaming online with friends, or working from home, the Daiyo Cat 6 Ethernet Cable provides the reliable connection you need. Its sleek and stylish design ensures that it seamlessly integrates into your home or office environment.

With its advanced technology, the Daiyo Cat 6 Ethernet Cable is optimized to reduce interference and maintain signal strength over long distances. Plus, its high-speed capabilities make it perfect for transferring large files, backing up data, and more.

Upgrade your internet experience today with the Daiyo Cat 6 Ethernet Cable – the perfect combination of speed, reliability, and style.

Cat 6

Pin plated with 24K gold

Easy Snagless Boots for easy plugging in and out.

Designed for Giga-Speed
Daiyo Cat 6 Ethernet Cable, the perfect addition to your high-speed internet setup. Designed with premium materials and expert craftsmanship, this cable delivers lightning-fast internet speeds and unparalleled reliability.
Whether you're streaming your favorite movies, gaming online with friends, or working from home, the Daiyo Cat 6 Ethernet Cable provides the reliable connection you need. Its sleek and stylish design ensures that it seamlessly integrates into your home or office environment.
With its advanced technology, the Daiyo Cat 6 Ethernet Cable is optimized to reduce interference and maintain signal strength over long distances. Plus, its high-speed capabilities make it perfect for transferring large files, backing up data, and more.
Upgrade your internet experience today with the Daiyo Cat 6 Ethernet Cable – the perfect combination of speed, reliability, and style.
Cat 6

Pin plated with 24K gold

Easy Snagless Boots for easy plugging in and out.

Designed for Giga-Speed
This product has no reviews yet.
FAQ
Use this text to share information about your product or shipping policies.
How long will it take to receive my order?

We offer fast and reliable shipping options, and delivery times vary depending on your location and the shipping method you choose at checkout. Standard shipping typically takes 2-5 business days, while expedited shipping options are available for faster delivery.
Does Daiyo offer international shipping?

Yes, we offer international shipping to select countries. Shipping times and fees may vary depending on your location.
 How can I track my order?

Once your order has shipped, you will receive a tracking number via email that you can use to track your package online.
What is Daiyo's warranty policy?

We stand behind the quality of our products and offer a 1-year warranty on all Daiyo products. If you experience any issues with your product within the warranty period, please contact us for assistance.
What does the Daiyo warranty cover?

Our warranty covers defects in materials and workmanship for 1 year from the date of purchase. It does not cover damage caused by misuse, accidents, or normal wear and tear.
How can I contact Daiyo customer service?

You can contact our customer service team by email wecare@daiyo.sg. Our team is available to assist you with any questions or concerns you may have about your Daiyo products.
What is Daiyo's return policy?

We offer a 7-day return policy on all Daiyo products. If you are not satisfied with your purchase for any reason, you may return it for a full refund or exchange within 7 days of purchase. Please note that the product must be in its original condition and packaging to qualify for a return.
Our customer support is available Monday to Friday: 9.30am-5:30pm.
Average answer time: 15mins