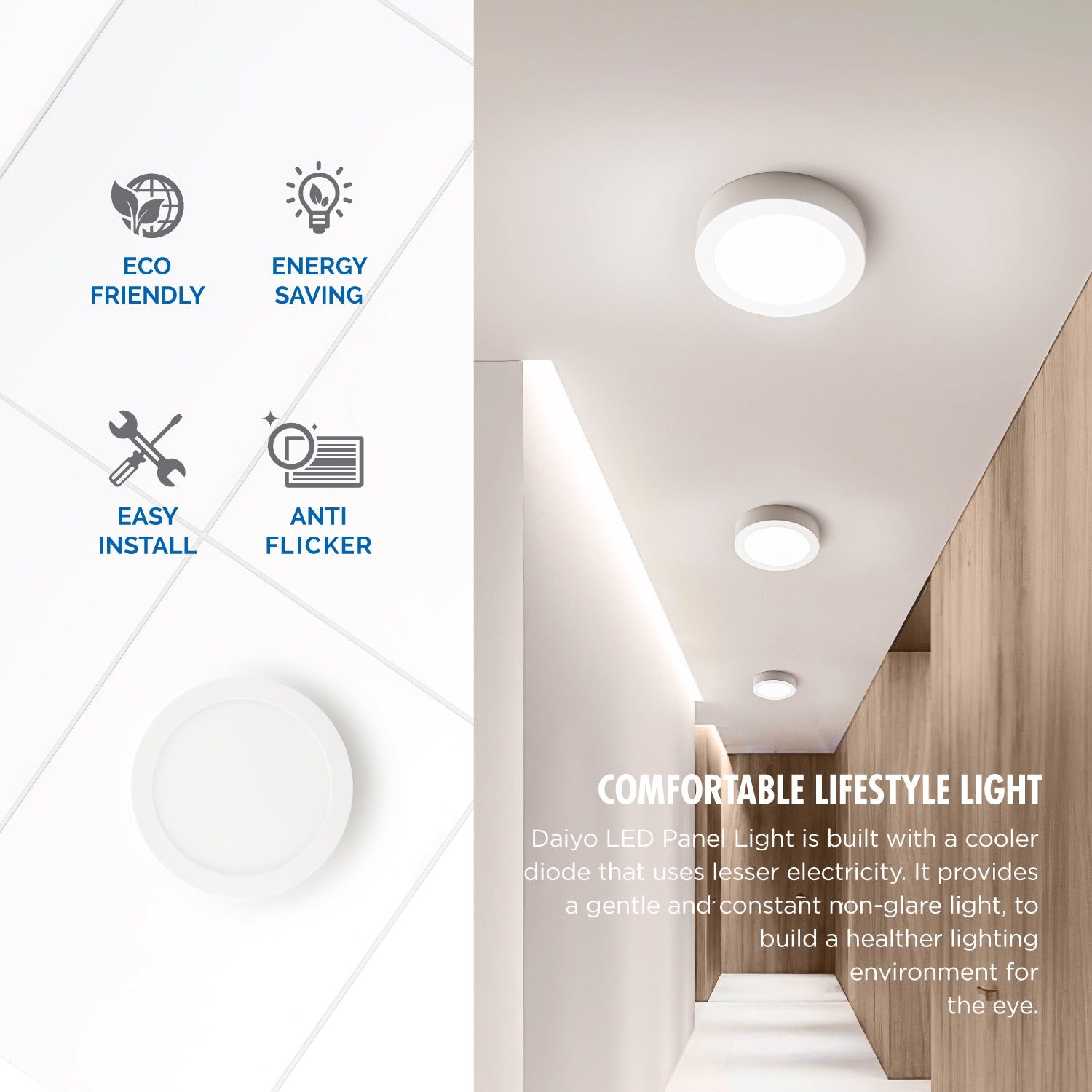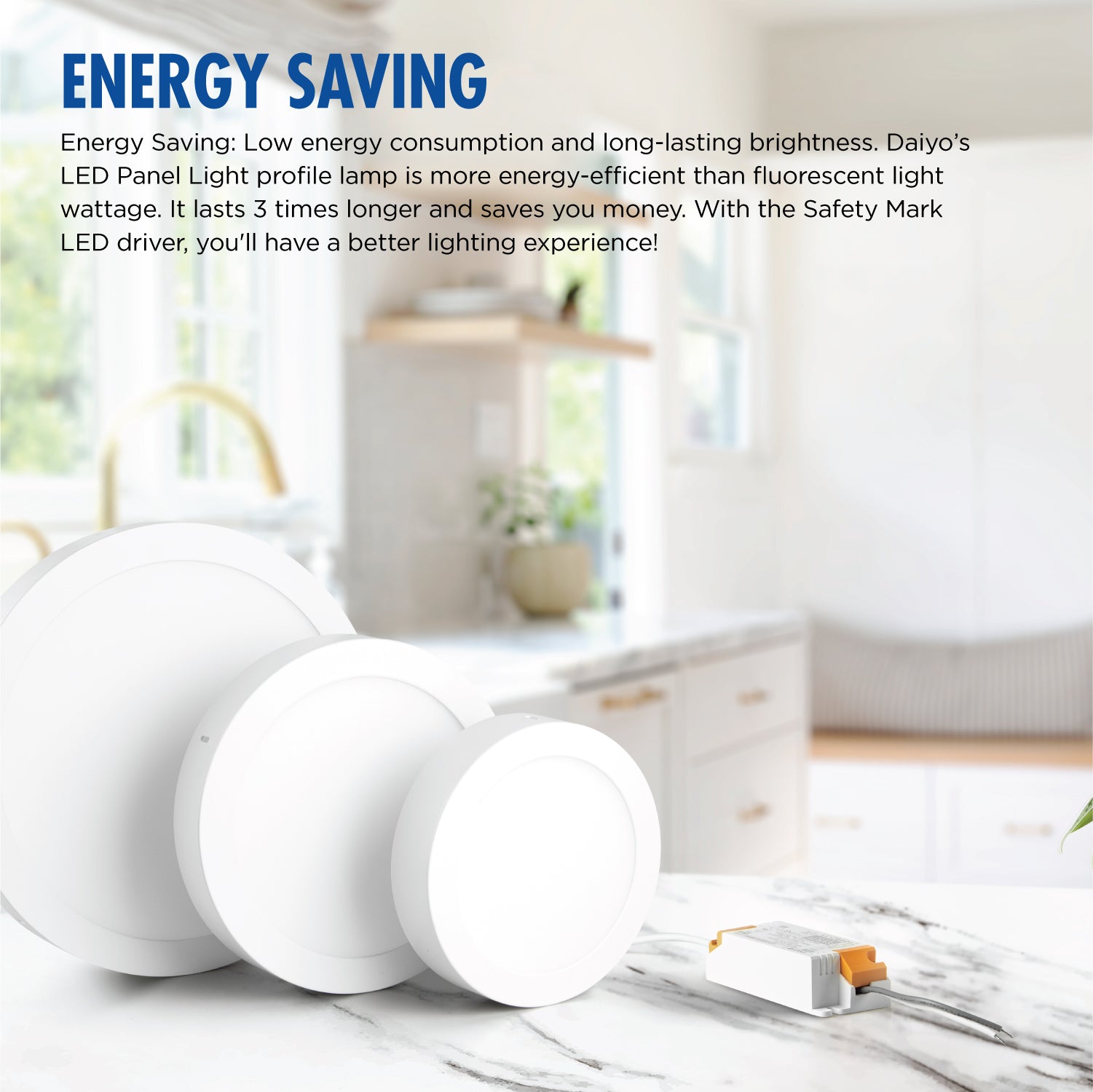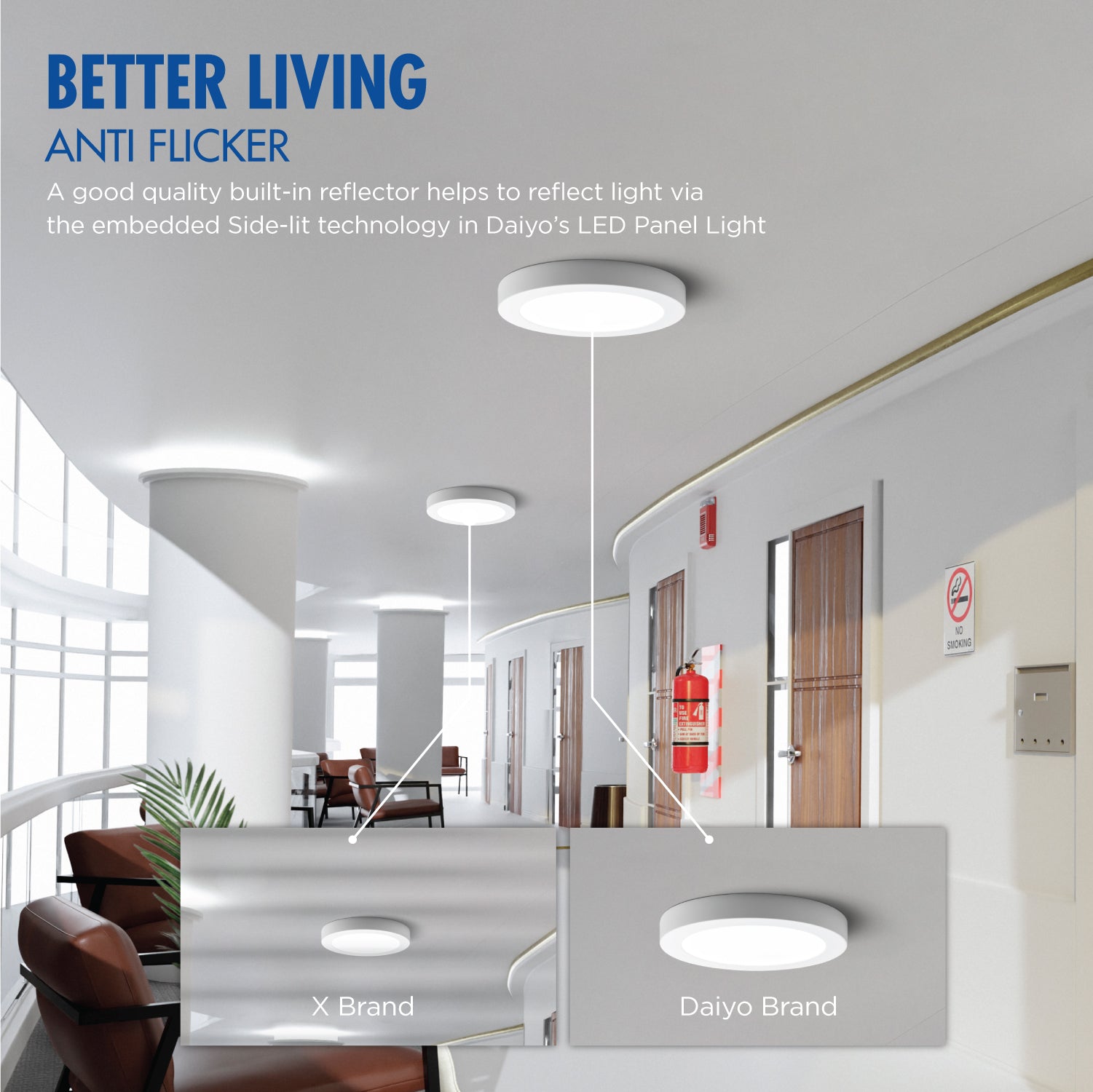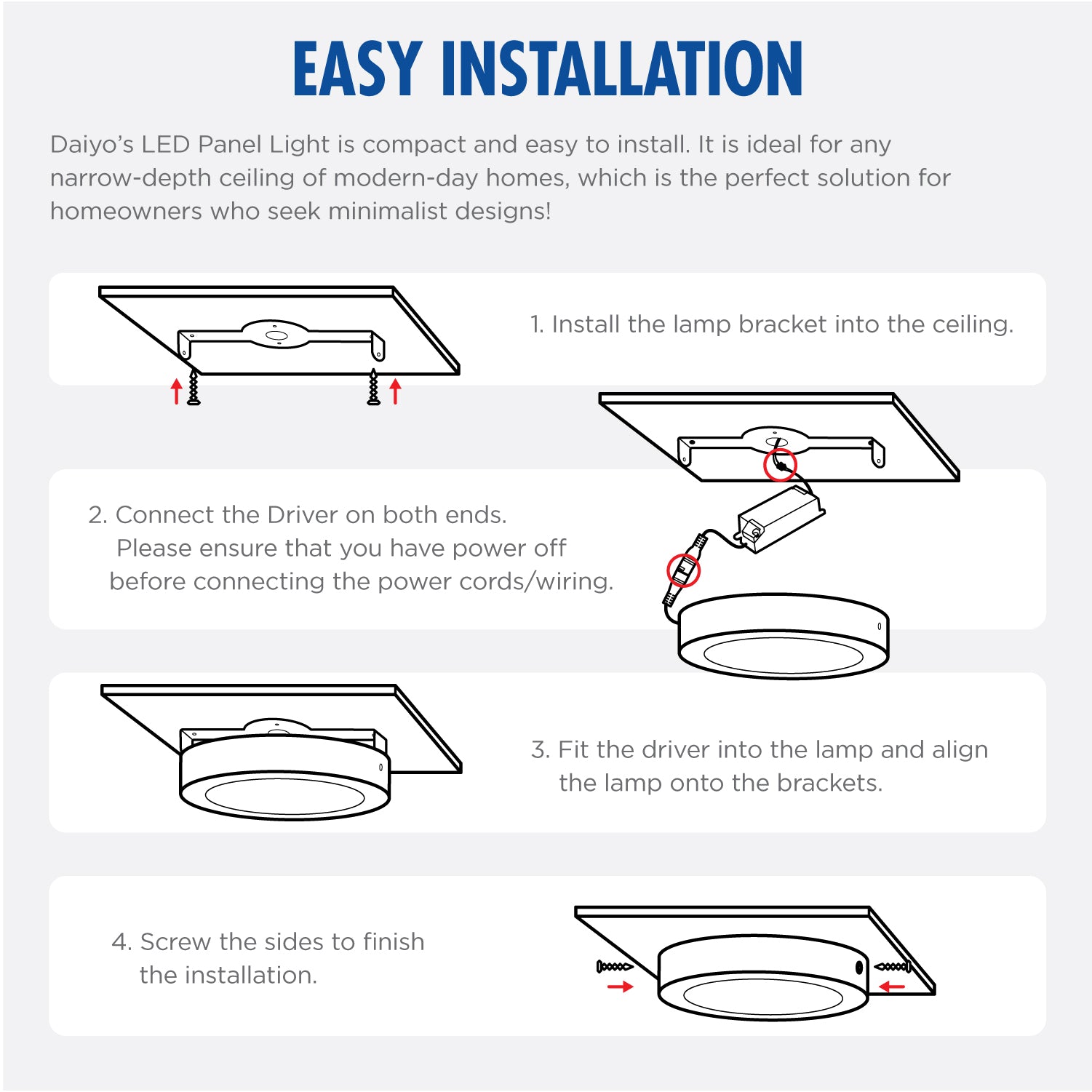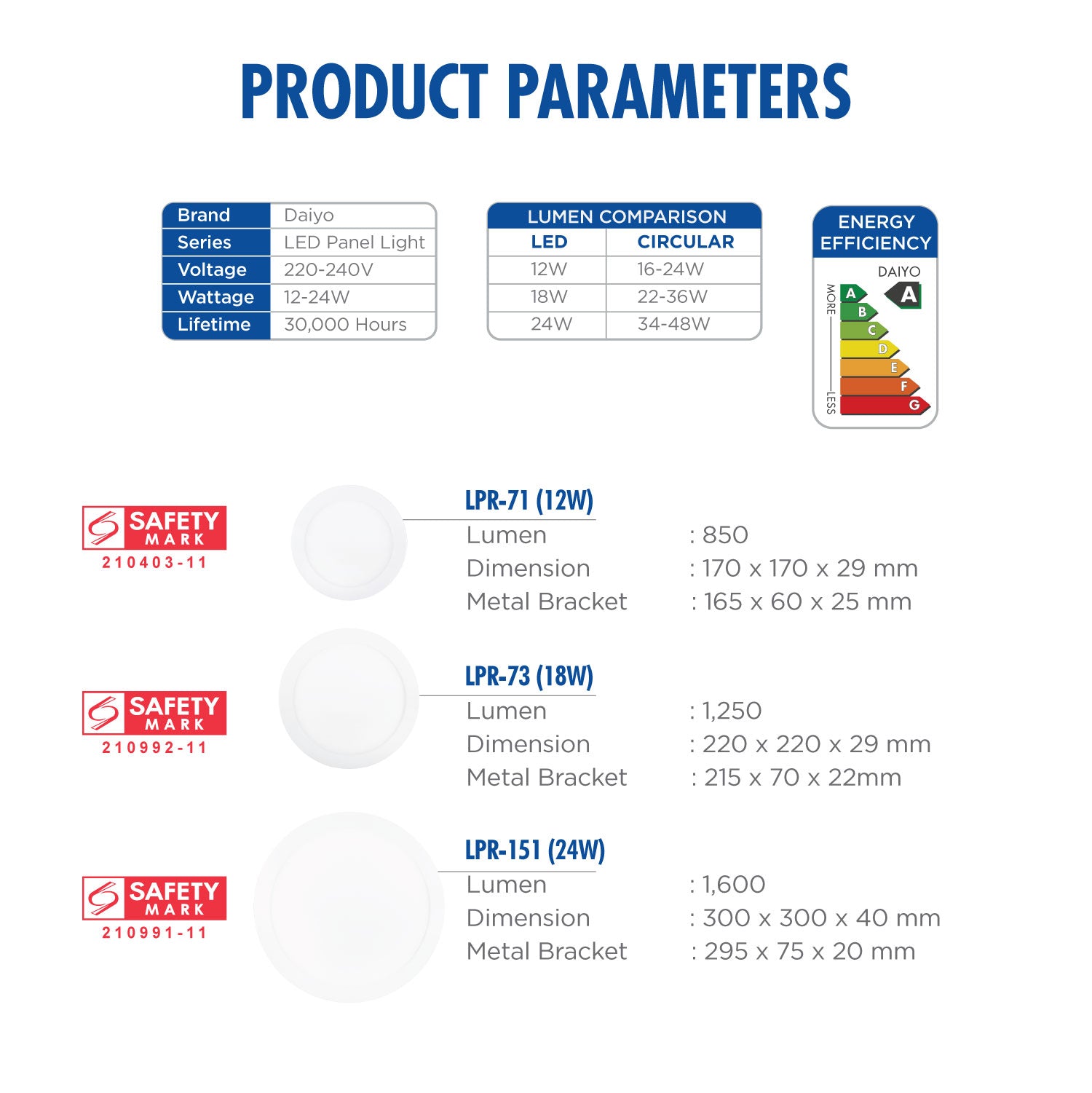 Daiyo LPR 73-DL 18W LED Surfaced Panel Light Round Shape (Day Light)
Daiyo LED Panel Light is built with a cooler diode that uses lesser electricity, perfectly design as a replacement for conventional downlight that can be easily replaced and install on surfaces such as false ceilings or concrete ceilings that provides a gentle and constant non-glare light, to build a healthier lighting environment for the eye.

A good quality built-in reflector helps to reflect light via the embedded Side-lit technology in Daiyo's LED Panel Light
Low energy consumption and long-lasting brightness. Daiyo's LED Panel Light profile lamp is more energy-efficient than fluorescent light wattage, it lasts 3 times longer and saves cost. Provides you with a better lighting experience!
Colour index > 80, close to natural light and restore true colour. It illuminates a colourful household environment and conveys comfortable atmosphere.
Solid-state structure that's reduces heating.
High brightness and colour rendering LED chip provide a gentle and constant light that will not fade or form any dark unlighted areas.
Built with constant current driver and Solid-state LED chips that prolongs a longer LED life and significant energy savings.
Eco–friendly & Low power consumption.
Day Light
18W
Daiyo LED Panel Light is built with a cooler diode that uses lesser electricity, perfectly design as a replacement for conventional downlight that can be easily replaced and install on surfaces such as false ceilings or concrete ceilings that provides a gentle and constant non-glare light, to build a healthier lighting environment for the eye.
A good quality built-in reflector helps to reflect light via the embedded Side-lit technology in Daiyo's LED Panel Light
Low energy consumption and long-lasting brightness. Daiyo's LED Panel Light profile lamp is more energy-efficient than fluorescent light wattage, it lasts 3 times longer and saves cost. Provides you with a better lighting experience!
Colour index > 80, close to natural light and restore true colour. It illuminates a colourful household environment and conveys comfortable atmosphere.
Solid-state structure that's reduces heating.
High brightness and colour rendering LED chip provide a gentle and constant light that will not fade or form any dark unlighted areas.
Built with constant current driver and Solid-state LED chips that prolongs a longer LED life and significant energy savings.
Eco–friendly & Low power consumption.
Day Light
18W
This product has no reviews yet.
FAQ
Use this text to share information about your product or shipping policies.
How long will it take to receive my order?

We offer fast and reliable shipping options, and delivery times vary depending on your location and the shipping method you choose at checkout. Standard shipping typically takes 2-5 business days, while expedited shipping options are available for faster delivery.
Does Daiyo offer international shipping?

Yes, we offer international shipping to select countries. Shipping times and fees may vary depending on your location.
 How can I track my order?

Once your order has shipped, you will receive a tracking number via email that you can use to track your package online.
What is Daiyo's warranty policy?

We stand behind the quality of our products and offer a 1-year warranty on all Daiyo products. If you experience any issues with your product within the warranty period, please contact us for assistance.
What does the Daiyo warranty cover?

Our warranty covers defects in materials and workmanship for 1 year from the date of purchase. It does not cover damage caused by misuse, accidents, or normal wear and tear.
How can I contact Daiyo customer service?

You can contact our customer service team by email wecare@daiyo.sg. Our team is available to assist you with any questions or concerns you may have about your Daiyo products.
What is Daiyo's return policy?

We offer a 7-day return policy on all Daiyo products. If you are not satisfied with your purchase for any reason, you may return it for a full refund or exchange within 7 days of purchase. Please note that the product must be in its original condition and packaging to qualify for a return.
Our customer support is available Monday to Friday: 9.30am-5:30pm.
Average answer time: 15mins